History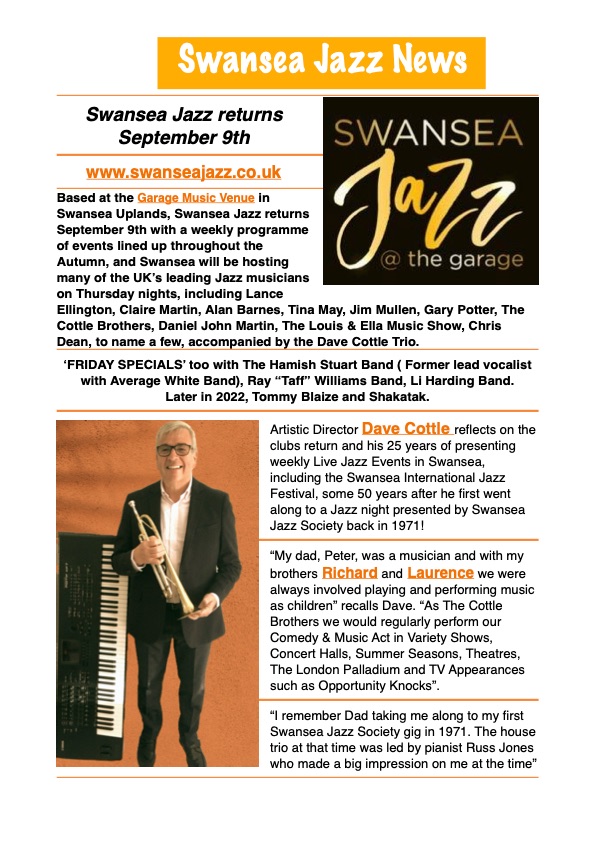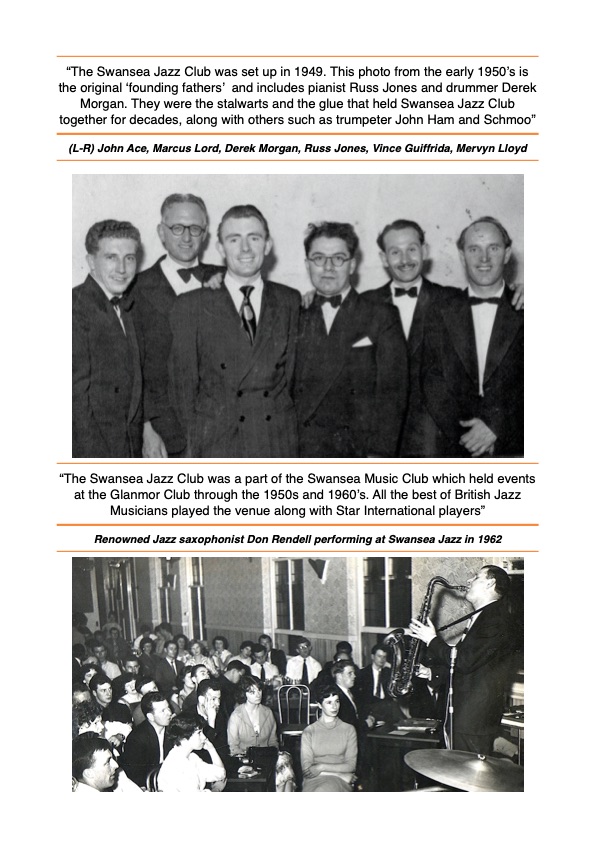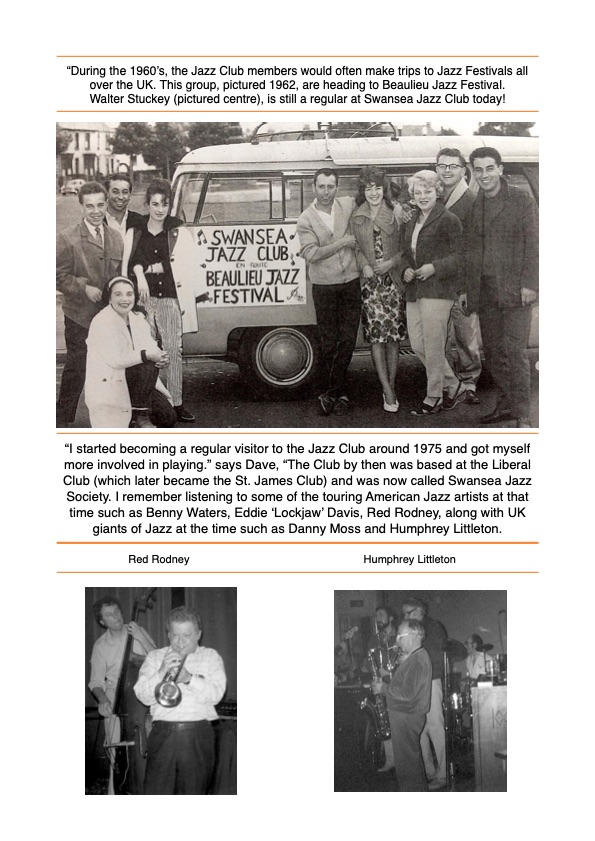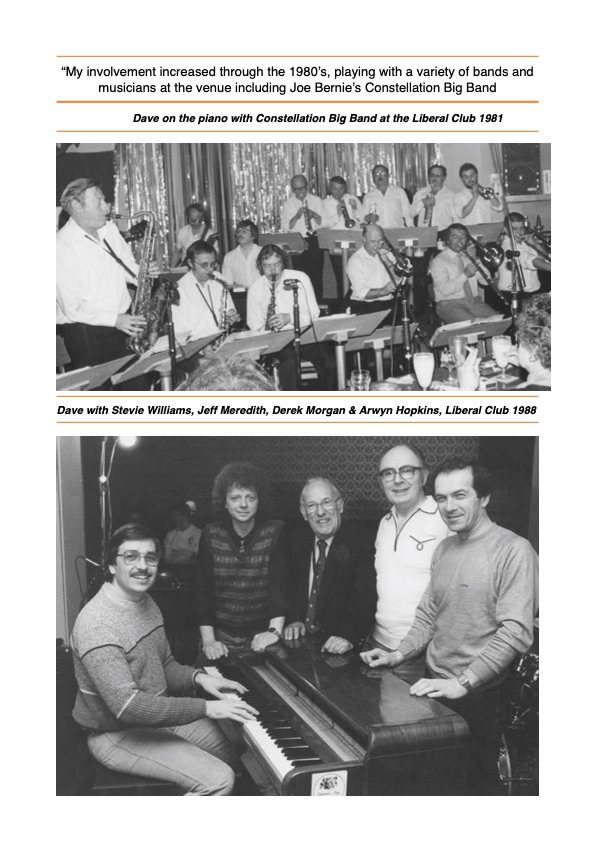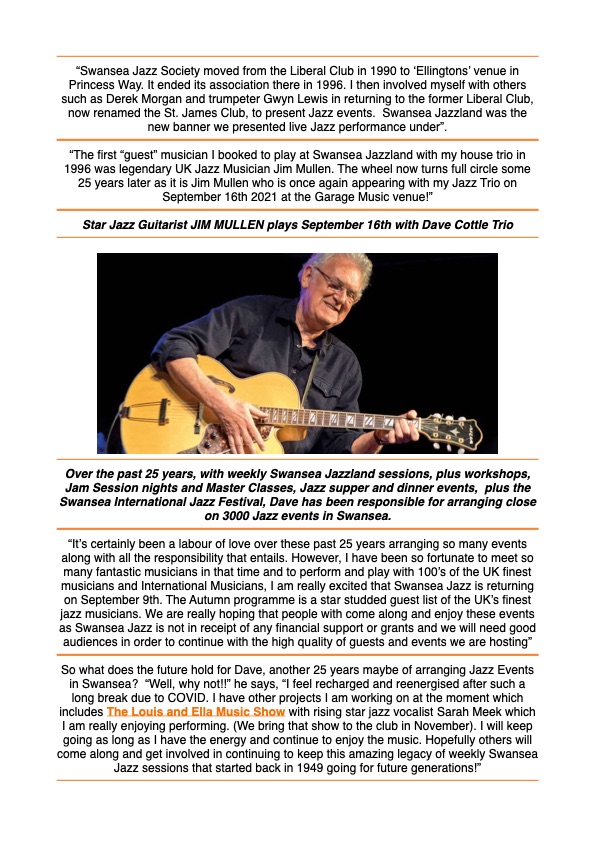 Swansea Jazz Club was formed in 1949.
over the years it has been a part of Swansea Music Club in the 1950's, Swansea Jazz Society then took care of events from the late 1960's through to the 1990's when Swansea Jazzland took over the reigns . Swansea Jazzland ended in 2019.
Swansea Jazz started in 2020
(L-R) John Ace, Marcus Lord, Derek Morgan, Russ Jones, Vince Guiffrida, Mervyn Lloyd pictured early 1950's, the bedrock of the early Jazz Club.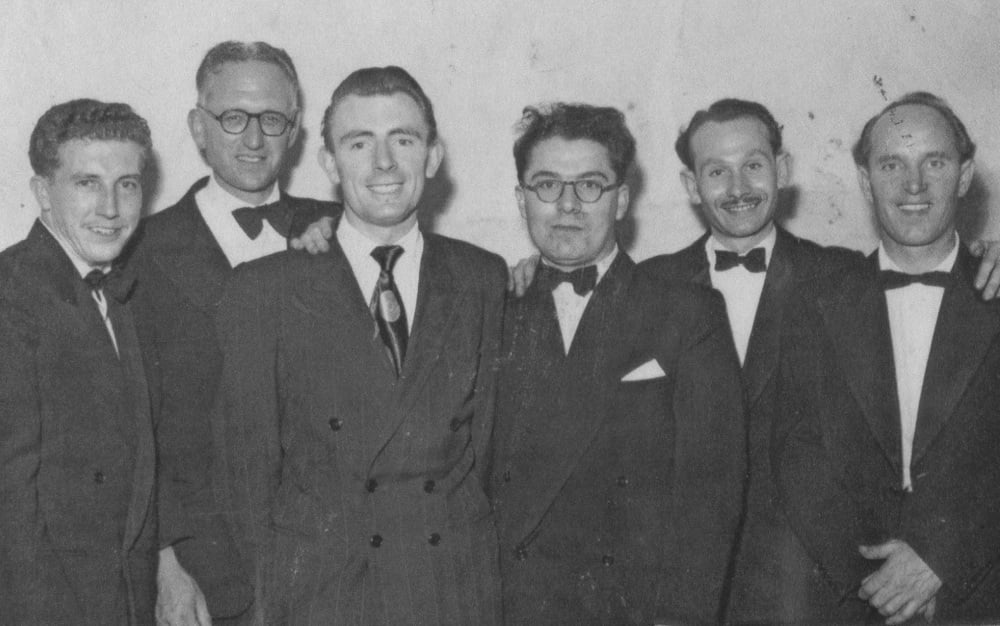 The Glanmor Club in full swing in the 1950's
Walter Stuckey is a devoted jazz fan and a member at Swansea Jazzland who never misses a gig. He has been a follower of the weekly jazz scene in Swansea for 7 decades. It was back in the late 50's when he started going along every week to the Glanmor Club. Maurice Levenson, who was better known as Schmoo to everyone was one of the driving forces getting the club going along with Swansea musicians, Derek Morgan, Russ Jones and John Ham.
Walter recalls, "I remember watching John Ham playing trumpet in his RAF uniform when home on leave! The local musicians would be the backbone of the club and would be joined by guest musicians. One regular throughout the 60's and for many years to come was saxophonist Danny Moss with his wife, vocalist, Jeannie Lamb. Danny's son, Danny Moss Jr. is a fine double bass player now resident in Australia, and on visits to the UK plays at Swansea Jazzland. The Glanmor Club even hosted Amen Corner for their debut gig, but sadly ran into financial trouble in the late 1960's and the club had to close.
Swansea Jazz Society enroute to Beaulieu Jazz Festival 1962 (Walter is pictured centre).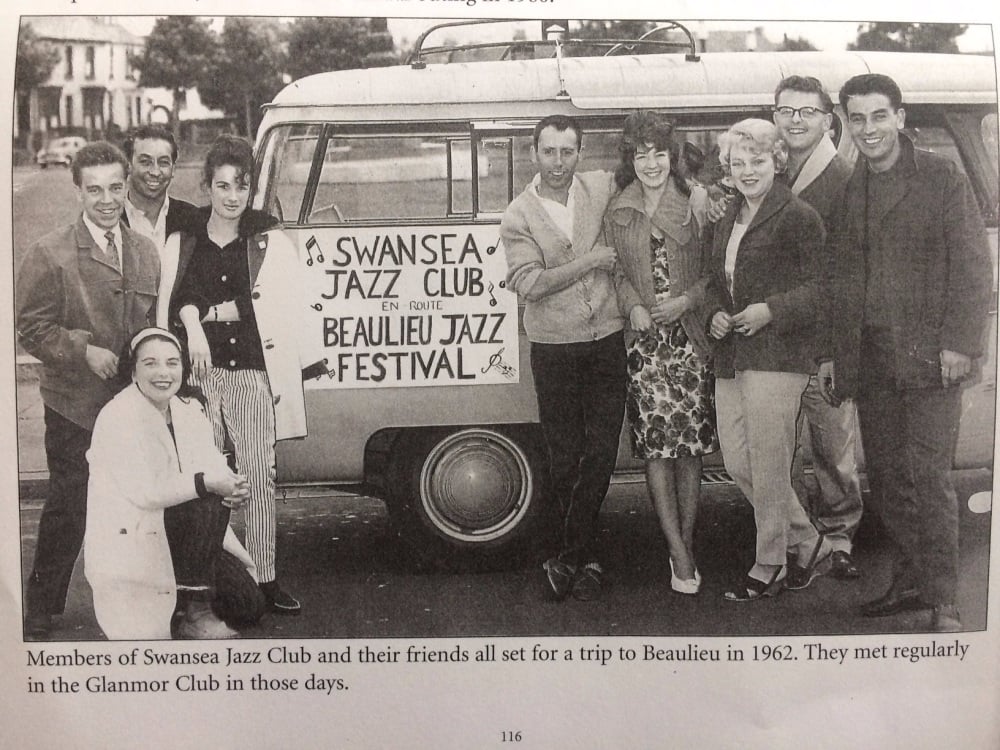 Don Rendall plays to a youthful attentive audience around 1961.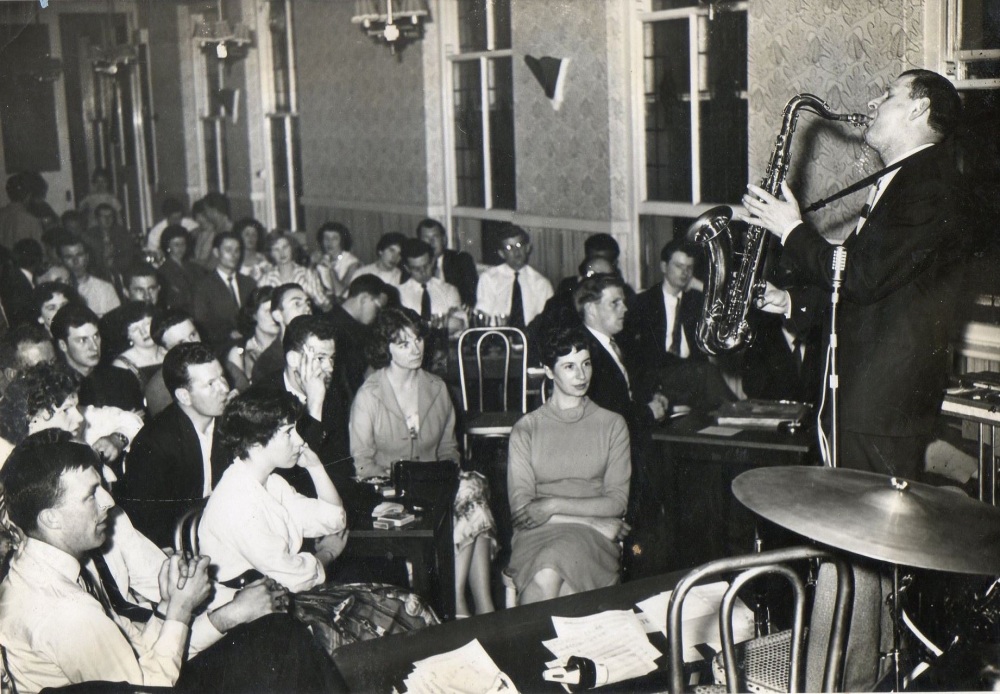 Other notable venues have hosted jazz for periods, including The West Cross Country Club/Ellingtons/Mundays Wine Cellar, Grand Hotel, Mumbles Conservative Club.
The Glanmor Club closed and the jazz club continued with a move to the Liberal Club (St James Club) as the the main weekly home of live jazz session, hosting many leading International Jazz performers
Red Rodney, Peanuts Hucko, Humphrey Littleton, Eddie Lockjaw Davis, Tal Farlow and Benny Carter amongst many others.
Red Rodney 1970's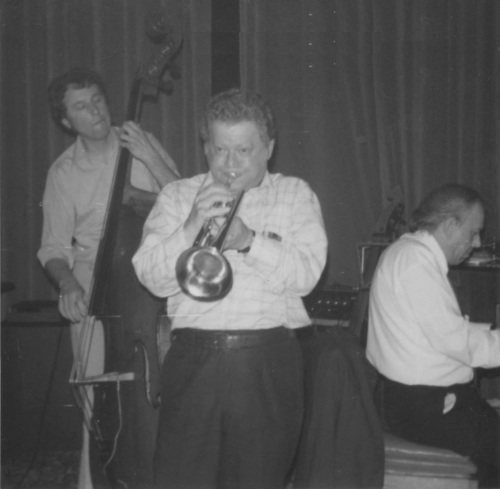 Humphey Littleton late 1970's
L-R Ieuan Jones (Bass), Bob Tunicliffe (Trombone), Humph, Jeff Meredith (Sax), Derek Morgan (Drums)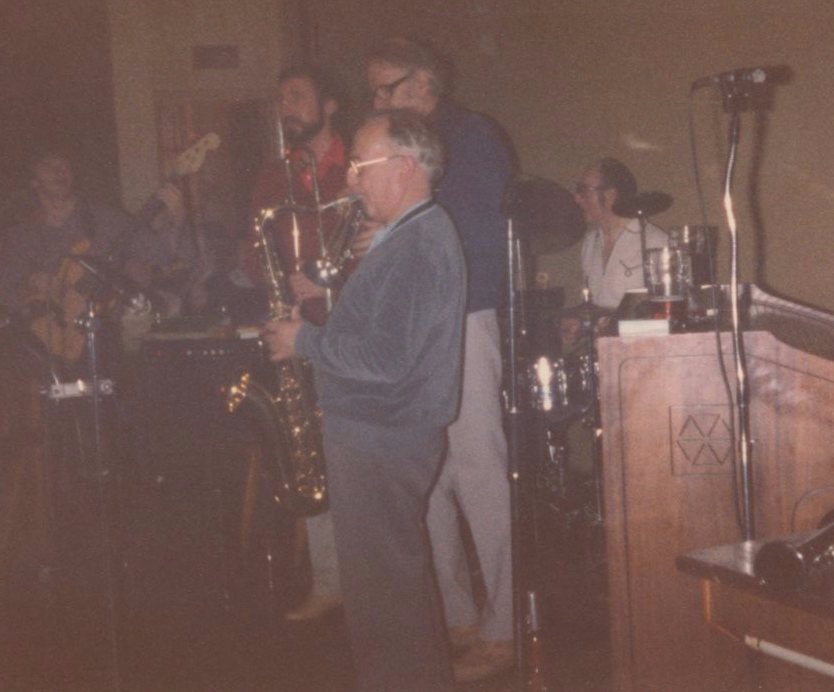 Swansea Jazz Society presented some big events in the 1960's/1970's at the Brangwyn Hall and the Top Rank.
These included Buddy Rich Orchestra, Woody Herman Big Band, and many of the top British Jazz Ensembles
The Bobby Orr Sextet Brangwyn Hall Circa 1980
L-R Roy Williams (Trombone) Coin Smith (Trumpet) Bobby Orr (Drums), Clarinet ? Len Skeat (Bass), Brian Lemon (Piano) , Danny Moss (Tenor)
Woody Herman at the Top Rank 1977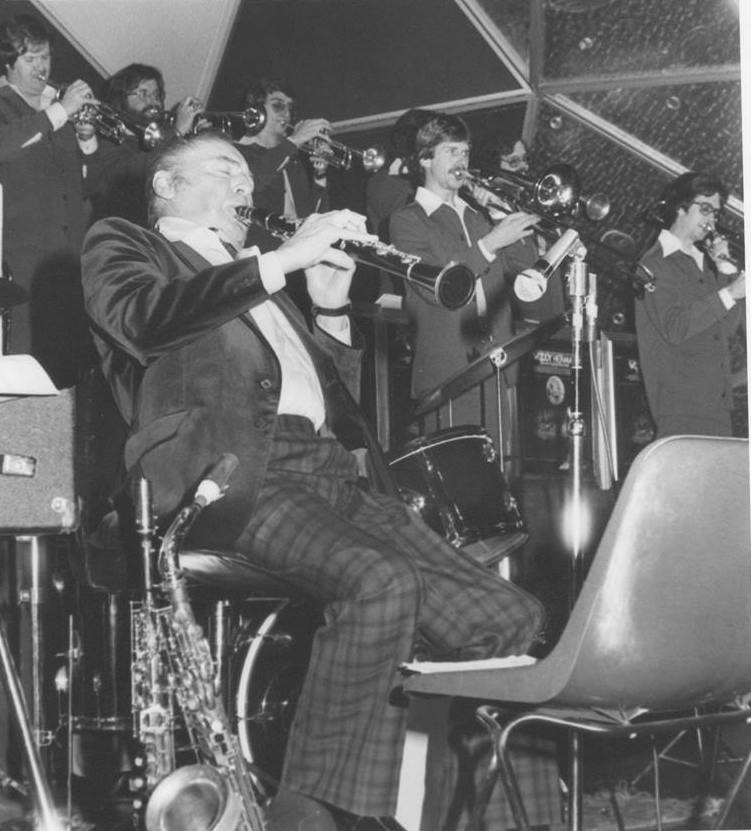 The Jones Boys, Ieaun (Bass), Russ (Piano) & Steve (Drums) often provided the house accompaniment at the weekly sessions in the 1980's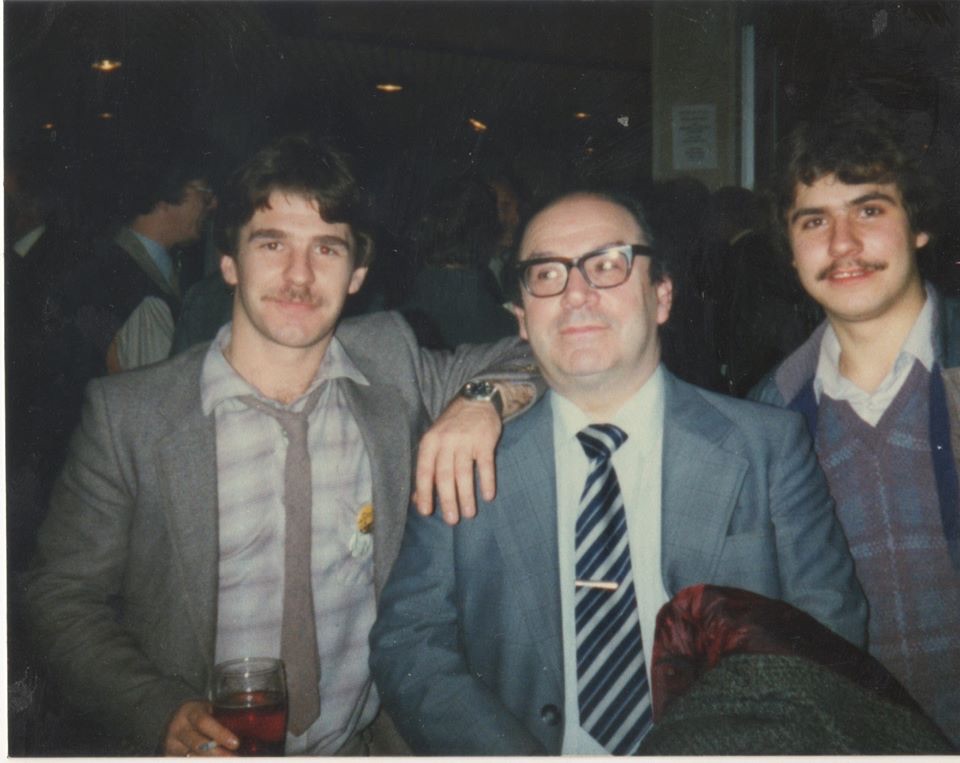 Bassist Ron Davies (L) with Stevie & Alfie Williams in the 1980's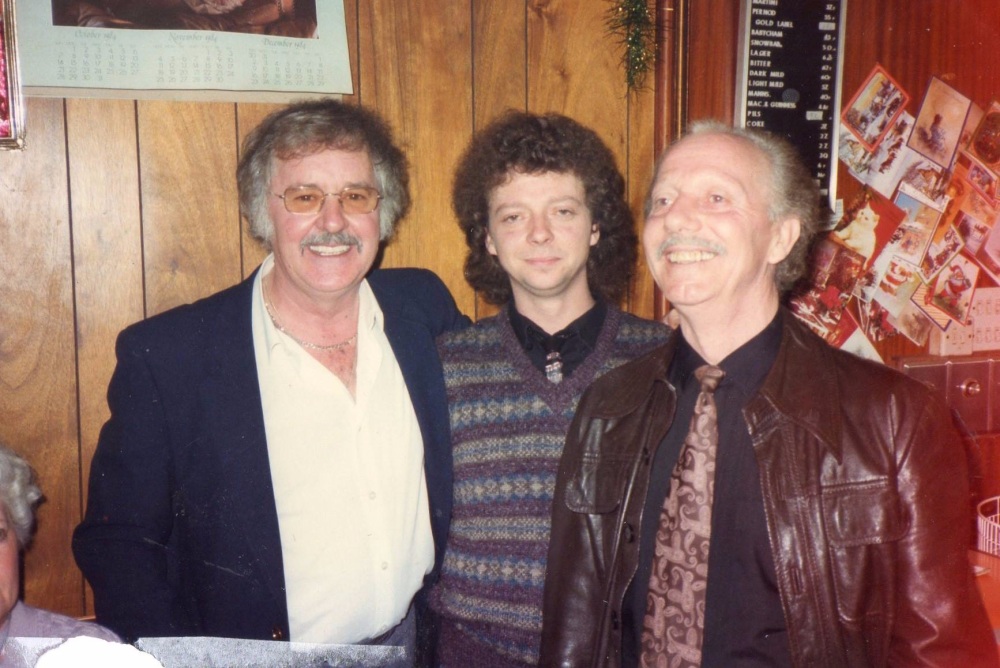 Constellation Big Band at the Liberal Club 1980
Front L-R (Saxes) Norman Hopkins, Graham Hart, Geoff Salter, (Trombones) Staff Bowen, Jim Francis, Alan Pearce
Back L-R Alfie Williams (bass), Dave Cottle (piano), Trumpets Eddie Thomas, Bill Davies, Gerald Roberts, Tony Dudley, Nigel Fitzgerald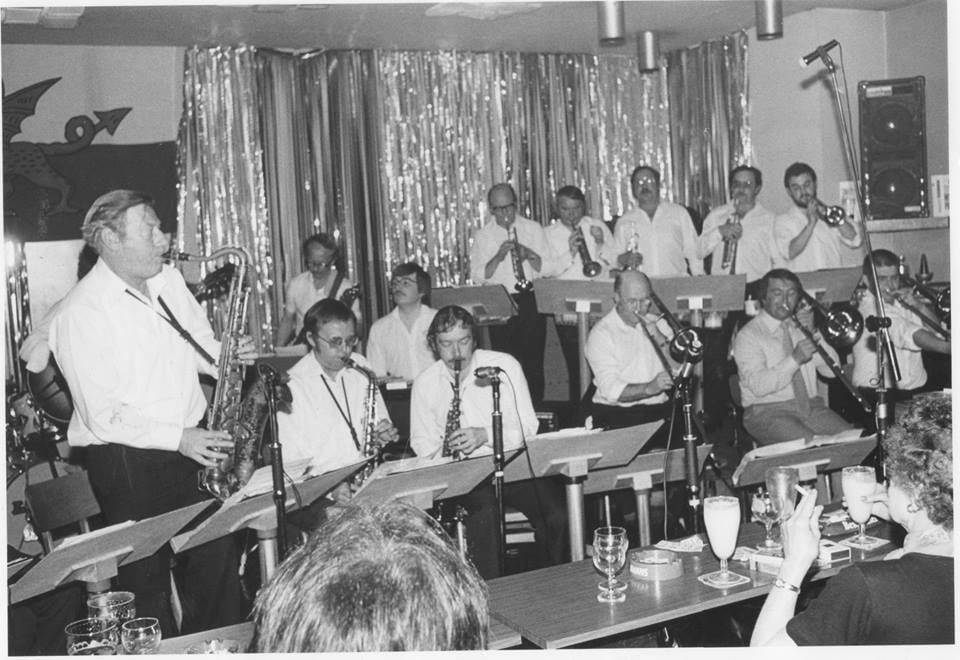 1985 ensemble at the Liberal Club
L-R Dave Cottle, Steve Williams, Jeff Meredith, Derek Morgan, Arwyn Hopkins
The club became Swansea Jazzland in the 1990's and the Liberal Club became the St James Club around about the same time. Pianist Dave Cottle began arranging the programme of events as he does today.
Swansea Jazland moved to a new venue Augut 2018 - It is great to see that jazz music is still so popular and wonderful that such large audiences come along to the The Garage @ Whitez every Wednesday night".
Walter Stuckey.
BEYOND THE CONCERTS!
JAM SESSIONS & MASTERCLASSES
Swansea Jazzland with support from Arts Council of Wales 2004 - 2018 held monthly open jam-sessions free to attend and open to all ages and abilities.
The sessions allowed players to learn the art of jazz, and perform to an encouraging and knowledgable audience.
The Swansea Jazzland house trio provide professional backing, and will guide any participants through their pieces, and all done with a friendly and fun attitude.
Jazzland also hold regular Masterclasses delivered by some of the finest jazz professionals in the World. Please check the club's website at www.swanseajazzland.co.uk to find out about the next jam sessions and masterclasses.
Previous Masterclasses have been presented by the following artists:
Mark Nightingale - Trombone
Claire Martin - Vocals
Laurence Cottle & Ian Thomas - Bass and drums
Alan Barnes - Saxophone
Mike Clarke - Drums
Damon Brown - Trumpet
Vincent Herring - Saxophone
Bruce Adams - Trumpet
Erin Dickens - Vocals